A small island. Ferries run between main land and the island every 15 minutes. Both JR and Hiroden tram Miyajima-guchi Stations are wheelchair accessible. Accessible ramps in the ferry ports. Ferries have no special facilities and space for wheelchair users, but no problem to ride. Itsukushima shrine is also wheelchair accessible. Accessible ramp are provided at the main entrance and on each step. Wheelchair users can share the same route as other visitors. Ropeway to 535m top of the island mountain is not wheelchair accessible. Enjoy waking around the shrine and the shopping arcade. http://www.miyajima.or.jp
---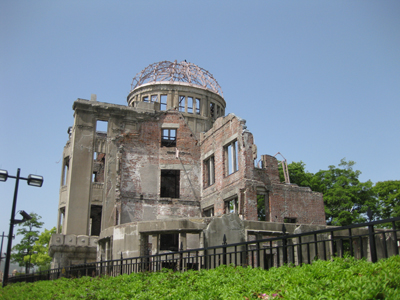 Peace memorial park




The atomic bomb was dropped on 6th August in 1945. About 140,000 people / 420,000 population died. Main facility "Peace Memorial Museum" is wheelchair accessible, but there is only one lift at the entrance. So wheelchair visitors turn back the same way to the entrance. Peace memorial park is located in center of downtown.
http://www.pcf.city.hiroshima.jp
---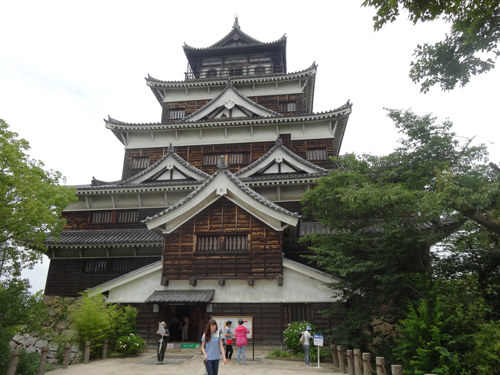 Hiroshima Castle




Rebuilt after destruction by the atomic bomb in 1945. There is one route for wheelchair users to the central area. Steps to the castle tower. Only stairs inside the castle tower. It is very difficult to look around for wheelchair users.
http://www.rijo-castle.jp/rijo/pdf/eigo.pdf

---
Tram




Called "Hiro den". Two main lines are wheelchair accessible, #1 JR Hiroshima - central - Atomic Bomb Dome - Miyajima, and #2 JR Hiroshima - central - port. But other lines are not wheelchair accessible. Tourist may not use other lines. Half of trams of the 2 main lines are non-step lower floor. Wheelchair users can go anywhere in Hiroshima city using these trams.
http://www.hiroden.co.jp/en/
---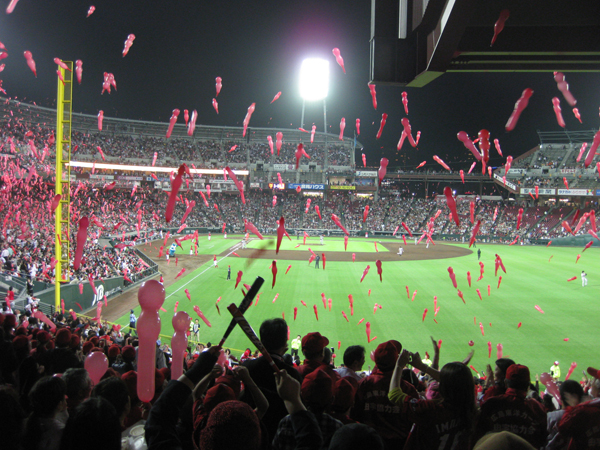 Baseball Stadium




Hiroshima Carp home stadium. Opened in 2009. Perfect accessibility like USA baseball parks. Many wheelchair seats in each seating area. Located 20 minutes walk from JR Hiroshima St.
http://stadium.rcc.jp (only Japanese)
http://www.carp.co.jp/ticket/kansen/kurumaisu.html ( wheelchair guests info )

---
Okonomiyaki




Hiroshima local food. Two type of Okonomiyaki in Japan. One is Hiroshima style, and the other is Osaka style. Many Okonomiyaki restaurants or dining hall.


construction
---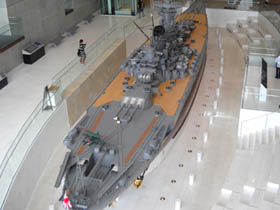 Kure Yamato museum




Kure City had a big naval base and technology for shipbuilding. Yamato was the largest battleship in the world during World War II. The museum presents the history of modernization of Japan and raises people's awareness of the tragedy of war. Fully wheelchair accessible.
http://www.yamato-museum.com/en/

---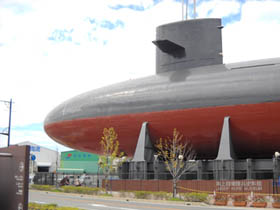 JMSDF Kure museum



Japan Maritime Self-Defense Force (JMSDF) introduces and exhibits submarines and minesweeping. It is free to enter this museum. Fully wheelchair accessible, but wheelchairs cannot enter enter the submarine "Akishio", which is a real submarine.
http://www.jmsdf-kure-museum.go.jp/en/

---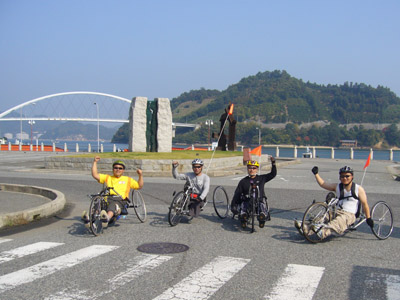 Setouchi islands




Japan is island country. Many many island between Honshu and Shikoku. Nice local life there. Fisher village, orange firmer. Today many bridge connect them, Easy to access some islands by car. Excellent cycling around the islands under sunny weather. Also nice fishing place. Public toilets available anywhere in Japan, including wheelchair accessible ones.

---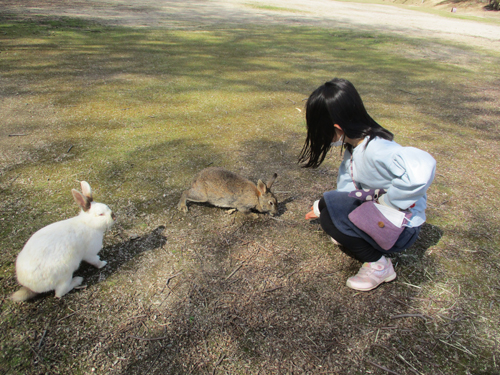 rabbit island




called Okuno-shima officially. Located in Setouchi Sea. 10 min by ship from main land. This island has a dark history. There was poison gas research labo and factory during world war age. Now many many wild rabbits live here. No human. One big hotel and campsite for tourists. Small island. East to ground by walk and on wheelchair. The hotel does not have a wheelchair accessible room.

---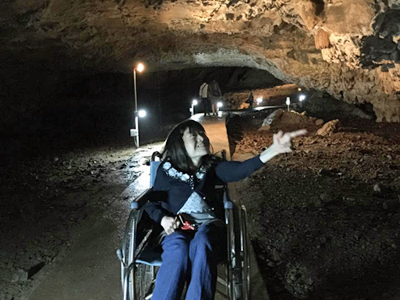 Akiyoshidai caves




The largest karst plateau in Japan. There are 3 caves for tourists. 2 of them are wheelchair friendly and accessible. 1/3 trail of Akiyoshi cave is non step. Wheelchair users and baby baggy can enjoy 400m walk from main entrance. 700m main trail of Kagekiyo cave is wheelchair accessible, but the adventure course is not wheelchair accessible. Feel the nature cave.
http://english.karusuto.com
---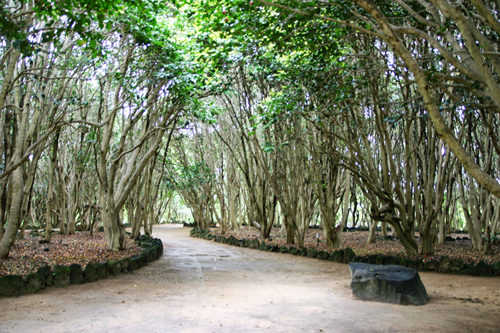 Camellia forest, Hagi




Wild camellia forest remain in Kasayama, north of Hagi city. The blossom season is Feb - April. Hilly, but possible to go on wheelchair. Do not miss eating fresh squid. Susa Hornfels is located 40 minutes north of Hagi city by car. Amazing landscape on Japan Sea coastline.


---
Taisyakukyo




Located in mountain area Hiroshima. 2 hours drive from Hiroshima city center. Famous as a nature stone bridge " Onbashi ". 1 km wheelchair accessible (not paved) river side trail to the stone bridge.
http://taishakukyo.com/en/


---