The most famous upmarket shopping, dining and entertainment district in Japan. Sidewalks in the area are very smooth. Department stores are fully wheelchair accessible. Excellent service is provided at many high-grade restaurants, bars, stores and night clubs. The nearest station is JR Yurakucho Station, which is wheelchair accessible. Metro stations have lifts, but the railway network is very complicated.
---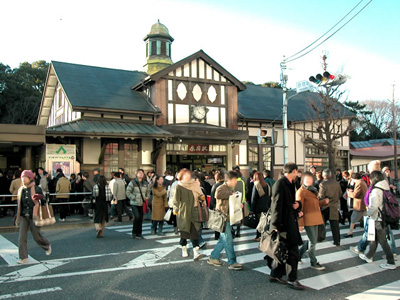 Harajuku




Hot spot of young fashion and culture. Omotesando Street is a high-class fashion avenue. This street is so hilly that wheelchair users may find it difficult to go up and down the street. Meiji Jingu Shrine, one of the most famous shine in Tokyo, is located in Harajuku. This shrine is next to Yoyogi Park and near to Harajuku Station.
---
Ikebukuro




One of big railway hub terminal stations. 2 JR, Seibu, Tobu, 3 Subway stations connect through Ikebukuro. Little China town in west side of Ikebukuro station. Big shopping area and important traffic point. Not so many tourist spots around here. Enjoy shopping and eating.
---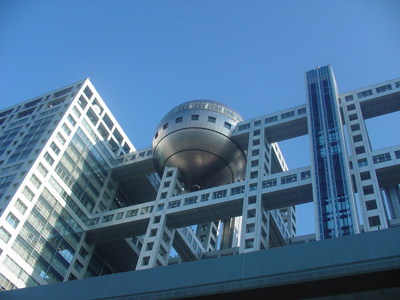 Odaiba




A large artificial island in Tokyo Bay. There are many shopping malls, sightseeing spots, entertainment attractions, museums, hotels and parks. Fuji TV Building is a landmark of Odaiba. Tokyo Big Site Convention Center is also located in this area. All the museums are completely wheelchair accessible. Oedo Onsen Monogatari (Hot Springs Theme Park) is also wheelchair accessible. Wheelchair users have easy access to Odaiba by Metro.
http://www.aquacity.jp/en/top http://www.ooedoonsen.jp/higaeri/
---

Roppongi



A popular nightlife district, especially for foreign residents. There are many bars and nightclubs. The district is so crowded at night that wheelchair users sometimes find it difficult to move around in the streets. Roppongi Hills and Tokyo Midtown, which are two huge shopping & business complexes, are wheelchair friendly. So many wheelchair users enjoy shopping and eating at nice restaurants in the buildings. Metro stations are wheelchair accessible. But those stations are not connected. So when wheelchair users change trains, they have to make a long detour or move along the hilly streets to reach another station.
http://www.roppongihills.com/en/ http://www.tokyo-midtown.com/en/
---

Shibuya



A most popular shopping and entertainment district for young people. This area is a center for youth fashion and culture. Countless neon lights illuminate the city of Shibuya at night. You will feel hustle and bustle of the city. Some streets in the center of the shopping area, the northwest part of Shibuya, are so hilly that people in manual wheelchairs may find it difficult to move along the streets. Shibuya Station is also an important terminal station.

---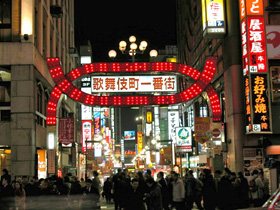 Shinjuku



Many stations railway lines go to Shinjuku. Besides, Shinjuku Station is the world's busiest railway station. The railway network is so complicated that you should be careful not to lose your way. Shinjuku is also a major stop for long-distance highway buses. Most of buildings and department stores have good wheelchair accessibility. Shinjuku Gyoen National Garden, a famous large park with beautiful gardens, is wheelchair accessible. Tokyo Metropolitan Government Building (Tocho) is also wheelchair accessible. Visitors enjoy the landscape from the 45th floor of the building without charge.
http://www.shinjukuku-kankou.jp/english/
---
Ueno




Ueno Zoo and many museums in Ueno park. One of the museums is the Tokyo National Museum. This park is also a very famous spot for cherry blossom viewing. The park, the zoo and all the museums have good wheelchair accessibility. Ameyoko Market located between JR Ueno Station and Okachimachi Station is a well-known market street for the lively atmosphere of old Tokyo. JR Ueno Station is a big station, which is fully wheelchair accessible.
http://www.tokyo-zoo.net/zoo/ueno/
---

Tokyo Sightseeing Spot
---
Fuji mountain




Most famous and highest mountain in Japan at 3376 meters. Located 100km west from Tokyo. Many viewing spots around Fuji mountain. Driving a car or joining a tour are the way to go. There are nice lakes in north side. We can see Mt Fuji from Shinkansen bullet train when the weather is clear. In summer many people climb up and watch the sunrise on the top.
---
Ghibli Museum



Japanese anime studio "Ghibli" museum. Most parts are wheelchair accessible, but there is no lift to the roof garden. Low-floor buses run between JR Mitaka Station and the museum. We are required to purchase reservation tickets (admission tickets) in advance only at LAWSON convenience stores in Japan.
http://www.ghibli-museum.jp/en/
---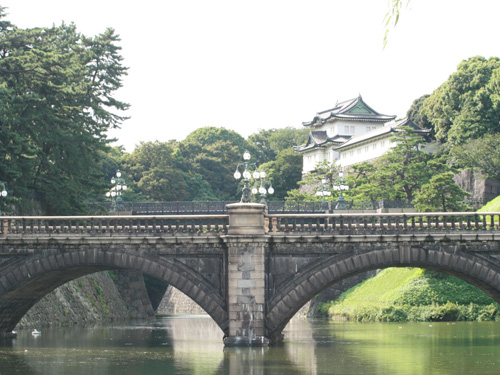 Imperial Palace




Good wheelchair accessibility. The Imperial Palace gardens have many gravel and dirt paths, but some of them were paved for wheelchairs with the original landscape intact. There is a wheelchair ramp at the entrance of the old wooden gate. It takes about 1 hour to walk around the palace gardens. The area is partly wheelchair accessible like other castles and shrines. Easy access from JR Tokyo Station (15min walk). The Palace offers free rental service of wheelchairs with fat tires designed to move around the gravel and dirt paths. http://sankan.kunaicho.go.jp/english
---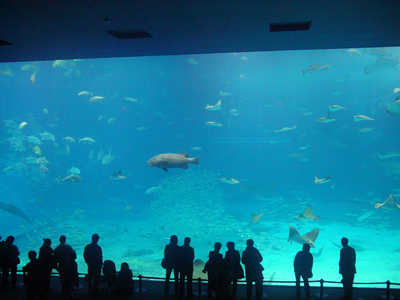 Kasai Rinkai Park



The huge park along the Tokyo Bay has Kasai Rinkai Aquarium. All wheelchair accessible. JR Kasai-Rinkai-Koen is fully wheelchair accessible. Wheelchair route in aquarium is not the same as normal one, but possible to see all exhibition.
http://www.tokyo-park.or.jp/english/park/detail_02.html#kasairinkai

---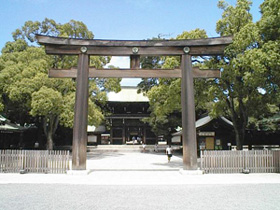 Meiji shrine (Yoyogi park)




Most famous shrine in metropolitan Tokyo. On new year day (1st January), millions of people come to pray for their health and good fortune. Basically the path is not paved (gravel or dirt) because the shrine preserve the sacred place. It may be not easy to walk on wheelchair. Many historical old trees inside.
http://www.meijijingu.or.jp/english/
---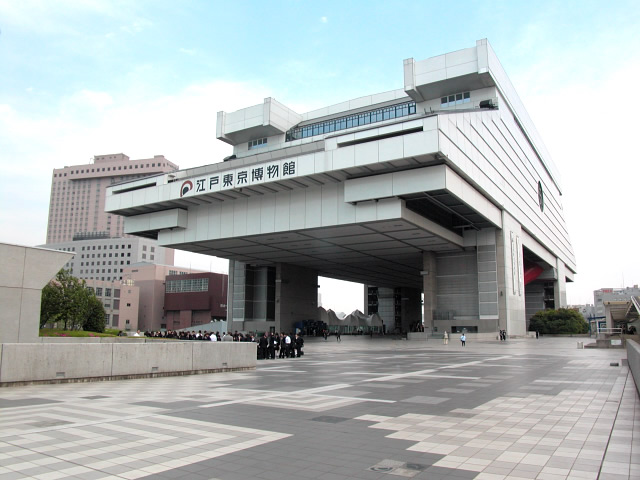 Edo Tokyo museum



A museum of Tokyo's culture and history from the Edo period to today. Completely wheelchair accessible and it offers free wheelchair rental service. Ryogoku Kokugikan Sumo Hall is next to the museum. So we can see many big sumo wrestlers around the hall during sumo tournaments. JR Ryogoku Station and Metro Ryogoku Station is fully wheelchair accessible.
http://www.edo-tokyo-museum.or.jp/english/
---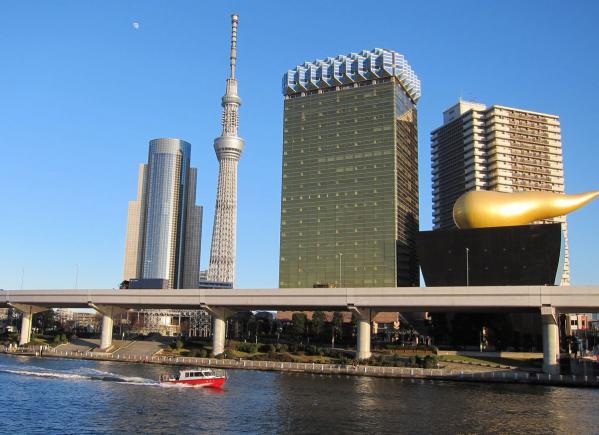 Tokyo Skytree




634m high Tokyo Skytree and shopping area Solamachi were opened in 2012. This tower has two observation deck (450m, 350m). Both are comletely wheelchair accessibe. Wheelchair users do not have to wait in a queue. Priority enter. By the way, Tokyo tower (333m. red color, open in1958) is not full accessible. 1st observation deck (145m) is OK, but many stairs and escalator to special observation deck (250m) . http://www.tokyo-skytree.jp/
---

Kabuki




Japanese classical dance-drama. Kabuki, Kabuki theater in Ginza, central Tokyo has two wheelchair seats on 1st floor. Booking the wheelchair seat is only by phone 0570-000-489. You can also buy the ticket in the theater. Metro Higashi-Ginza and theater building are both wheelchair friendly.
http://www.shochiku.com/
---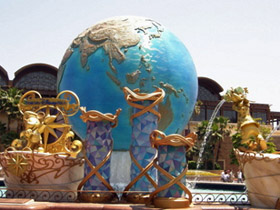 Tokyo Disney Resort



Tokyo Disney Land and Tokyo Disney Sea are surely wheelchair friendly. persons with disabilities may not be able to ride some attractions by their strict regulations. Mostly no problem. We can enjoy Disney fantasy world. The nearest railway station is JR Maihama is perfectly wheelchair accessible. Many hotels around Tokyo Disney Resort have wheelchair accessible rooms.
http://www.tokyodisneyresort.co.jp/en/
---